JANVIER
Insane and consumed by life, Janvier is a middle-aged French musician living on the edge of a metropolis where the voices and the sounds of marginalized people are piled up and confused in monochromatic concrete landscape .
Janvier is incompatible with the world around him, but he escapes its dynamics through a process of auto-exclusion: being no one allows him to be free to "cross" the town and interact with it in his own way.
To him life is something else, elsewhere in the various levels of his "mental orchestra" where everything matches a sound.
He wanders maniacally on the road and only retains objects found in the trash, waste materials that he hauntingly disassembles and reassembles, transforms and transfigures, reinterprets and moulds like an alchemist to finally make gadgets and electronic wizardry able to produce sounds, noises and crackles that he cleverly combines and composes .
In this way, Janvier creates "his own music", a border music which arises from the madness of a necessary isolation: it is exactly in the sonic experimentation that the character searches and produces an extreme version of survival and authenticity.
Those weird sounds becomes the interpretation of a time that flows slow and lonely with its harmonies which are destroyed in the same moment in which they are created and created in the same moment in which Janvier, for the sake of freedom, destroys himself.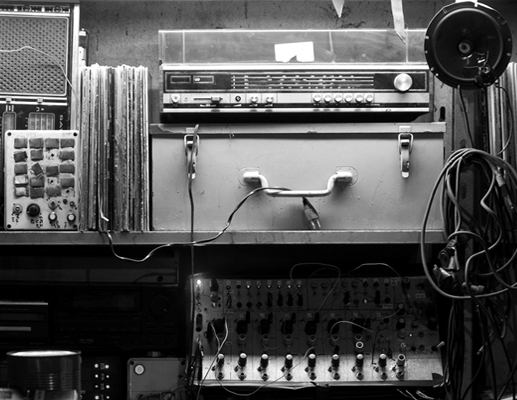 About the production

Janvier is a short movie thought and written around the universe of musical experimentation in its more intimate concerning: the protagonist – Janvier - is a fictional character who, in a peculiar process of mingling and abstraction, creates new tools with which composes and performs his own music in countertendency to the logics and the classical dynamics of production, purely for expressive needs.

The project "Janvier" is an idea matured in the artistic partnership between Pier Paolo Patti and Retina.it, a long lasting collaboration that has produced music videos, motion picture arts and performances which attended to the most important festivals of art and electronic music in Italy and abroad.
Janvier is a deep reflection on the way of trying out new sounds and executing improvised electronic music; the collection of materials and the skills acquired over the years by the Neapolitan duo give a glimpse of vast horizons of work.
The short movie derives from a mere musical event: a live performance by Retina.it with a set consisting of old machines and self-built modules obtained from waste material and reinterpreted with wisdom and mastery.
The inspiration for this short movie has its roots into a rich cultural substrate of music and cinema: a background that refers to the primordial landscape of technical and linguistic experimentation of the 50/60/70s, from avant-garde to the 80/90s industrial up to the conceptual of the new millennium.
In the screenplay there are cultural references drawn from Russolo's Futurist Manifesto of the year 1922.

Experience and passion for the world of experimental languages are the key of the director's creativity: a special feature through which Pier Paolo Patti turns all that is improvisation and research into an imaginary world in which you need to get lost.
Only in this way, with the support of a fictional history, it becomes possible to explore the polyphony of real worlds.
The picture of the movie is in a high-contrasted B/W, referring to a music with no frills, basic, dry, except for a few scenes where the color rather plays a narrative relevance, like an output from the track, an accident.
The language spoken by the protagonist is French and it's mixed with the different languages of the other performers (Chinese, Spanish, English, Italian), creating a continuous contamination of languages and cultures and also an ongoing comparison between the evolution of both language and music.
Pier Paolo Patti (director)
Eclectic artist and professional of the camera, Pier Paolo Patti works from over ten years in the field of the arts and the audio-visual production.
During his career, which is characterized by an evolving experimentation and a continue research for new languages, Pier Paolo Patti has shown his works in solo and collective exhibitions in Italy and abroad, taking part in famous festivals of audio-visual and electronic arts.
Author of musical videoclips, short films, documentaries, commercials, video sets for performance, animation and video installations, Pier Paolo Patti boasts the collaborations with artists and musicians of international fame.
The subject of the personal reflection of the director is the existential conflict: with an expression metaphorically extreme, violent, emotionally and intellectually provocative, the artist turns the conceptual matter of his work into investigation of the different forms of human infringement, abuse and oppression inflicted by the contemporary societies.
In 2002 he founds together with Stefano Cormino the mark of Mastofabbro audio-visual production,
synonymous with independent and experimental creations.
Retina.it (music and sound)
Retina.it (Lino Monaco and Nicola Buono) is a duo founded in the mid-90s on the slopes of Mount Vesuvius - Naples, which has its roots in the techno and new wave scene of the late '80s.
Performing on the national and international landscape of electronic music for over twenty years - since the beginning - Retina.it has thoroughly explored the study of new sound solutions by leveraging the power of analogical synths.
Retina.it plays and manipulate a variety of sounds derived from digital and modular synths using sound recordings produced by objects or environmental vibrations. In this experimental way, Retina.it is in an ongoing research for its own musical identity.
Its music has been released from labels such as Hefty records (Us) , Mousikelab (It), Flatmate/Storung (Spain) and Glacial Movements (It).
Retina.it has worked with several personalities' in the music industry and in the visual and performing arts' world, such as John Hughes, Marco Messina, Claudio Sinatti, Gabriella Cerritelli, Giorgio Li Calzi , Red Sector A.
Moreover, thanks to a deep-live activity, Retina.it had the honor of sharing the main stage with many international performers such as Kraftwerk, Matmos, Telefon Tel Aviv, T.A.G.C., Rechenzentrum , Oval, Noto, F. Bretschneider, Plaid , Apparat, Biosphere and much more.
Asférico (music)
Alex Gamez is graduated in Optics and Optometry from UPC University. He has been involved with music as a dj, sound artist, sound designer and producer since 1995, and currently he works under the moniker Asférico.
Asférico is a proposal that emerges from the artist's need to create and experiment sounds without loosing the groove.
In January of 2006, he founded Störung, a label/event focused on electronic and experimental music and visual arts. He is in charge of this project whose aim, in short, is to promote and support a variety of creative tendencies of the electronic music field, providing live performances, radio programmes and releases, in order to enable the audience to listen and enjoy these musical and artistic tendencies.
After starting to collaborate with Kim Cascone in 2008, he became involved with Hydrophonia in 2010 as producer, operating in the Barcelona office. He is also the label manager of the Störung sub-label FlatMate Music.
Matter (music)
Heidseck is a project by Fabrizio Matrone (Matter, fmchloroform).
Since 1999, the early stage of Heideseck provides for the use of guitars with delays, echos and reverbs that bring to life guitars feedback and drones stratification. The early records are long sessions recorded live by microphones and 4 tracks cassette recorder to take advantage from the induced tape delays. The sound is dark and hallucinated, it is inspired by psychedelic and the most extreme experimental electronic music. In the 2003, "The Null Creator" come out in limited edition produced by Nectanebo. The sound leaves the guitar and it becomes more dark than previous records, with references to the first wave of industrial music. Fabrizio Matrone - after many years dedicated to electronic rhythmic noise experimental project called "Matter"- resumes "Heidseck" with a brand new release for the net label sine3pm (www.sinewaves.it), and the 3th September 2011 he plays for the only italian TAGC gig with Tez and Retina.it, and in the 2012 at Storung Festival.
Cast

With: Didier Daimonax e Alicja Ziolko | Director: Pier Paolo Patti
Assistant director: Stefano Cormino
Screenplay: Emanuele De Amicis | Pier Paolo Patti
Executive producer: Nino Somma
Photography: Salvatore Zerbo
Sound: Retina.it | Music: Retina.it | Asférico | Matter
Editing: Stefano Cormino | Shenography: Ciro Vitale, Mario Paolucci 3D animation: Andrea Paduano | Colorist: Mauro Vicentini
Traking: Giuseppe De Michele | Production menager: Adriano Foraggio| Sound recordist: Ignazio Velucci

Co-producer:
Franco Cipriano, Nunzia Ciriello Francesco Cormino, Corrado Mercurali, Filippo Morena

Production: Mastofabbro

Crowdfunding: Produzioni dal basso